Back to overview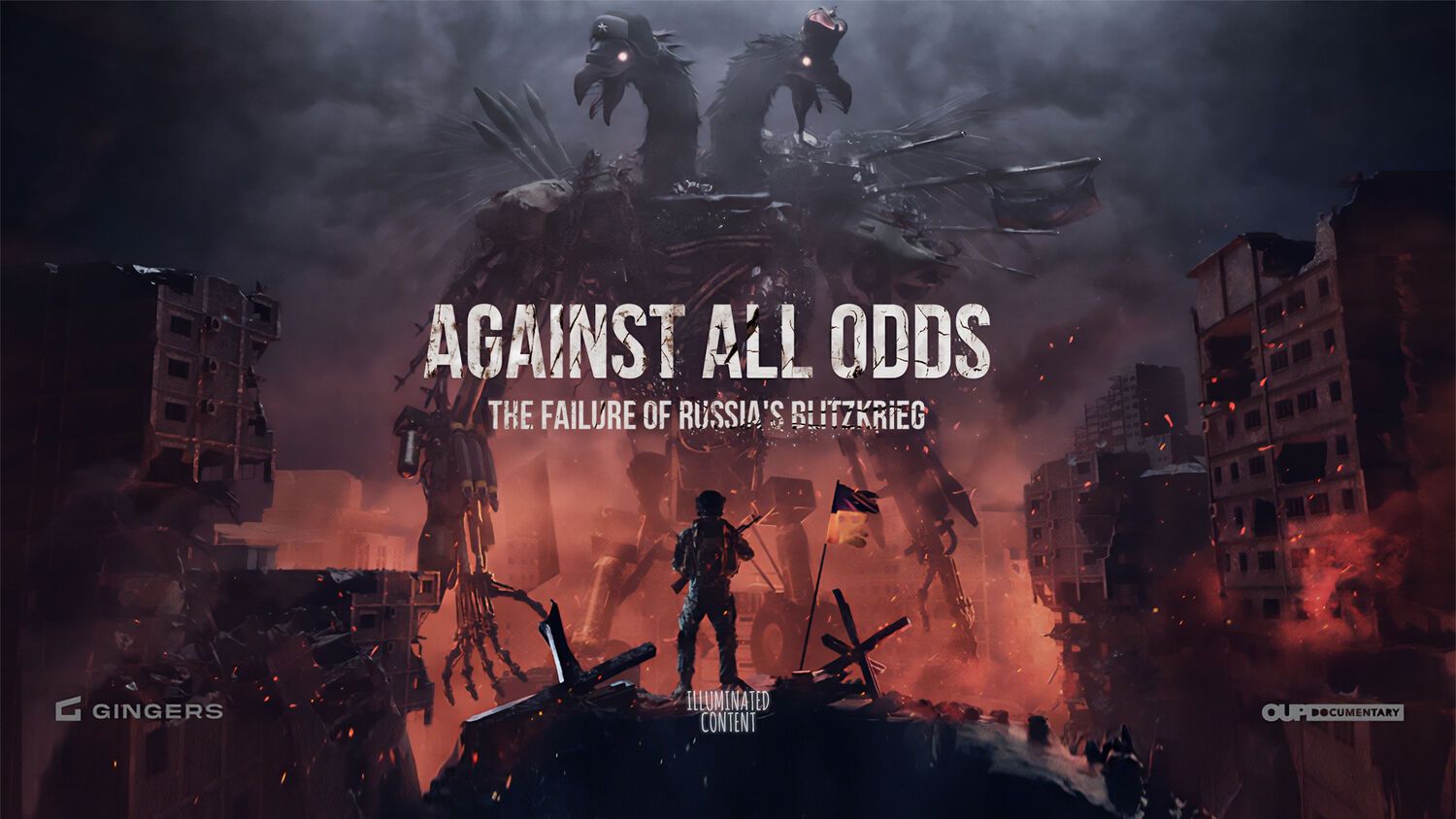 Press Release
The Organization of Ukrainian Producers secures distribution for documentary "Against All Odds" on N-TV with Autentic Distribution
31 January 2023: The Organization of Ukrainian Producers (OUP) announced today it had secured distribution for the documentary "Against All Odds: The Failure of Russia's Blitzkrieg" with AUTENTIC DISTRIBUTION. The film will premiere on N-TV (RTL Group) on 20 February 2023.

The documentary depicting the first month of the Russo-Ukrainian war is a joint project of The Organization of Ukrainian Producers (OUP), Gingers Media (Ukraine) and Liev Schreiber's Illuminated Content, produced with the support of Andriy Zagorodnyuk's Center for Defence Strategies. Liev Schreiber is attached as a narrator, the voice-over session was recorded at Mirrortone Studios in New York.

The creators sought to tell the story of the most pivotal events of the first month of the war through an unbiased lens. The team traveled along the route of Russia's advance and talked to the witnesses of these events, Ukrainian defenders of Hostomel, Irpin, Moschun. They also discussed the events with the current and the former Ministers of Defence of Ukraine, Oleksii Reznikov and Andriy Zagorodnyuk, as well as international military experts, such as Ben Hodges, the former Commanding General of the United States Army in Europe, William Taylor Jr., a former United States ambassador to Ukraine and Major General Andrzej Fałkowski, Polish Military Representative to NATO.

AUTENTIC DISTRIBUTION is the international distribution partner of Against All Odds and is the sales division of the documentary label AUTENTIC and a subsidiary of the German Beta-Group.

Christian Hensgens, Channel Manager NTV, says, "This documentary impressively explains how Ukraine to this day has managed to successfully defend their country against a seemingly overpowering enemy. High-ranking experts, elaborate visualizations and a special attention to detail make this film particularly exceptional. I am grateful that we were able to secure this film for NTV's primetime, premiering on February 20th at 9:05 pm (CET)".

Artem Litvinenko, director of "Against All Odds", says "I am very pleased that Germany will be the first country to broadcast our film. We could see how Germany's attitudes to Russia had changed ever since the invasion began. And we see them changing still. In this regard, the German premier is very symbolic".

Mirjam Strasser, Head of Sales & Acquisitions AUTENTIC DISTRIBUTION, says "We are very proud to extend our partnership with OUP and to have again secured the distribution rights for their latest film, "Against all Odds". This gripping film is about the heroes of the Ukraine, men who were snatched from their normal everyday lives and who managed to protect the Ukraine against the Russian war of aggression. Something that seemed impossible before is really happening: the Ukrainian men have defended their country to this day. This film shows why and how these brave men managed to withstand the first months of war against Russia and succeeded to stop Russia's blitzkrieg in its track".

Igor Storchak, co-founder of the OUP, founder and producer of Gingers Media, says "We are very grateful to our colleagues and friends at Autentic and N-TV. Showing the film on N-TV is a great honour for all of us. We believe that our film will make a contribution and tell an honest and unbiased story of this unjust war".
Back to overview